Its seem that he was there when i when back at my village but the facts he's no longer with us..
The lost that i gone through is big for me..
Can i live and manage to move forward as he was gone.. I really miss him so much when he not around.. I love him so much but that does not bring back my granpa.. miss him to the beat..
He took care of me when i was a baby... haha its was fun back then but now... only sadness remains...
What can i do to stop the tear of my heart.. the empty slot... broken heart... loneliness... he used to take me around the village and introduce me to others relative.... :) but now... hurm...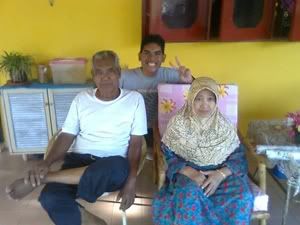 Al- Fatihah ..
Semoga arwah di tempatkan dengan orang yang soleh .. Amin ..